6.2011 | Purple in me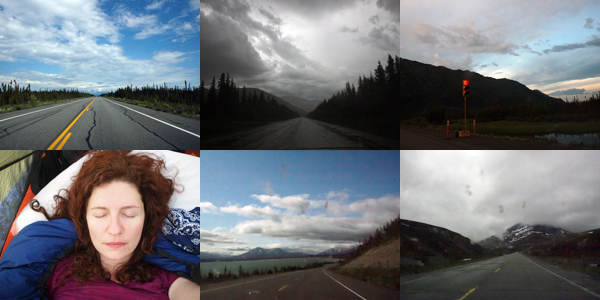 I was at my cousin Kate's house the morning I turned 40. I didn't let on but she remembered anyway. We celebrated the visit with margaritas poured from a plastic jug and the birthday with a breakfast of Cinnabon. She'd gotten the rolls from the only Cinnabon in Alaska, which happens to be in the airport. She gave me a box of chocolates, as well, and some gas money from my aunt and uncle. So nice of them. So nice to see her and her family.
I'm having trouble with this birthday, and I'm having trouble letting myself be in that. It's the sense of life narrowing from here. Doors opened in youth closing. I know I could live more than 40 more years, and that's a hard thing to grasp. But I won't be this strong. And I know that if I were telling this to someone older than I am they would tell me to get over myself. I would like to hear that.
++
A fitting day for the last drive and a long drive it was. From Anchorage toward glaciers and the cutoff to Valdez. Over frost heaves and the later dirt road, stopped at construction zones, and going again over same to Tok. Gassed up at the same station I did three days earlier. Sped off again, backtracking a few clicks between Tok and the turnoff to the top of the world. Then back to Canada. The border crossing was a siege of enormous mosquitos, and the guard and I swatted absurdly throughout our exchange. At a rest stop a few minutes later, I got five bites in the time it took me to dash into the privy and pee and run out again.
Back in the Yukon, the road rough. Late into dusk, and dusk yet a sustained hour. Enormous frost heaves, some marked. I caught air a few times, just a little bit. Just enough for my stomach to drop and all the shit in the trunk to hit the lid and drop with a thump. Big holes, too, hard to see. I worried for the front suspension a few times and was glad that it had been replaced during the service before the trip. And loose gravel, no kidding. I'd seen signs the whole way about loose gravel, but none of it actually was. Until this. I hit that first patch going too fast and the car began to pinwheel. I fought every ounce of fear not to overcorrect and fishtailed five times before finally regaining control. I slowed down after that.
Then, inexplicably, a stop light and a warning to wait for the pilot car. It was after eleven o'clock. Not a car since the border. Was it true? I waited, feeling foolish. An enormous RV came up behind and waited too. We both waited. I'd told myself that when fifteen minutes passed, I would take my chances. At twelve minutes, the pilot car came around the bend leading two cars.
At one in the morning I stopped to camp at Kluane Lake. A private campground run by the local tribe, no amenities. Few were camped. A wind strafed the surface of the lake constantly, like a float plane always landing. I was so tired, the air cold. I set up the tent and dove in as dressed, contacts, belt, jewelry—all. Tied a bandana over my eyes to keep out the light. Slept four hours, forced myself to lie there one more, and then got up. Made coffee with the campstove, ate a bowl of cereal. Left.
One of the few sunny days. Driving the shore of that long lake on a paved strip between it and the bases of the St. Elias mountains. Turned off toward Haines into the most beautiful tundra. High mountain areas like the pictures you see of Iceland. The road improved, newly paved and lacking crevasse. I floored it, savoring the amnion, within which now the music inseparable from me. You tap into my nervous system, that's the drum you hear.
Crossed back into the U.S. that way, at a glen far below the mountains, near sea level. The border guard asked me if I was carrying firearms, tobacco, or meats. Any pelts or ivory. Then he said he liked my chainmail.